It has been two weeks since school started here, but it feels like the first day to me. I have assessed my student's need, and with an enthusiasm that comes with the start of each new school year, I scoured the local teacher supply store and Michael's. My eyes dart around the store, blinking at the shiny and slick--flashcards, stickers, posters, games for learning. The smell and feel of "New" ways to teach causes excitement to bubble up within me.
I wander the aisles of Michael's (the arts and craft store), always fascinated by fun and colorful ways to learn something new. As I look for blank sticker books (non-existent these days), I weave through the coloring and painting supplies. Jewelry kits, paint by number, yarn, foam forms for decorating and building. I feel like a kid in a toy store at Christmas.


I have always been the student who could hardly wait to start school. New folders, pens, pencils, a pack of crayons with all the colors and sharp tips, the smell of ink still fresh in the book. Things that made my September sparkle. And with it, there would always be the pull to start a new craft project--not that art was my strong suit.


This trip is no different. I am smiling as my eyes dance through the aisles. While gazing at the stocked shelves my thoughts drift to days when my mother would accompany me on such excursions. I feel her delight as she observes me from heaven's perspective.
"Are you enjoying this Mom? Watching me have so much fun? You must be happy to know how much I love my job," my thoughts ramble to her as if she is next to me.
I have been blessed. The Lord has given me a job that captures my once young enthusiasm and gives outlet in an opportunity to pass it on in a career that gives me such joy.

"Moreover, when God gives any man wealth and possessions, and enables him to enjoy them, to accept his lot and be happy in his work--this is a gift of God." Ecclesiastes 5:19 NIV

Thank you Lord for this week's blessings:
659) Raindrops and rainbows that carried such meaning
660) Our Women's Retreat that helped us see how you are present even in hopeless situations
661) A movie evening with friends
662) A phone call from youngest
663) Oldest completing school to obtain his AA degree
664) A shampoo and trim for our wonder dog
665) Hubby getting around more
666) Tasting Southern sweet tea--a treat for the taste buds
667) Grocery store points that made gas for the car 30 cents a gallon cheaper
668) A job that I love

What delights did the Lord have in store for you this week?



From My Heart to Yours,
Linking with Multitude Monday and Playdates with God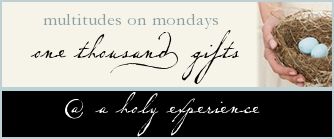 Labels: Encouragement, Gratitude Community, Playdates with God