Hubby's photo from our backyard


For a second night, the Super Moon hung in the sky beckoning us to leave behind the artificial blue lights of our technology and gaze upon real light created by the Master. Hubby and I grabbed the camera and stomped through the ankle deep, nighttime green of our grass. Pushing aside the possibility of what type of bugs my bare feet could encounter (Hubby wore flip flops), we plodded to a space against the block wall where the great beam in the sky was unobstructed by houses or trees.

Hubby snapped away, changed the dials, tried different settings and finally got the picture he liked. All the while I'm saying, "I really need to read that photo manual so that I will know how to set the camera for events like this." Hubby kept twisting dials and shooting.

When Hubby had a photo that showed the definitions of moon, he was satisfied and went back into the house to finish out a restful night with a favorite program. I tried coaxing him out front with me to attempt something a little more artsy. He declined. I hesitated and then launched forward. Tonight I was able to take an even better photo than last night. Probably because of watching Hubby's experimenting.


My artsy attempt


After snapping away for awhile, I returned to the comforts of home. Enriched by the view of God's grandeur in creation and the shared adventure with Hubby, I stretched out on the sofa. This time I was truly at peace.

How often do we ignore the beckoning of the True Light to come away with Him for the mundane blue electronic lights that ask nothing of us? And they can give us only minimal pleasure but not true joy. I know I do that too often. I think that I'm in my comfort zone, I have the rest I need, and I can listen to God later. We are duped. We miss out on the awesome experience of sharing treasured moments with the God of the universe who just wants to whisper His love and comfort into the parched depths of our souls. We settle for so much less.



Using some of Hubby's wisdom for my photo




"I look up at your macro-skies, dark and enormous, your handmade sky jewelry,

Moon and stars mounted in their settings.

Then I look at my micro-self and wonder,

Why do you bother with us?

Why take a second look our way?

Psalm 8:3-4 The Message


Tonight as I turn out the artificial lights that give a warm glow to our home, I am thanking The Light for His warm gifts of love this past week:

971) Talking with my best friend who now lives on another continent
972) Running errands with Hubby
973) Clouds in the sky signaling that the monsoon season is on its way in~rain for this dry desert
974) Notes from friends
975) A good report from the doctor
976) The privilege to pray for a dear friend
977) Our women's Bible Study that placed a hunger in my heart for more of God's Word, more of Him
978) Catching up on laundry and organizing the household, making it more welcome and cozier
979) More sleep
980) Meeting someone at church that I had never met before~sharing with her about our upcoming women's retreat

Thank you Lord for all of these good gifts!




From My Heart to Yours,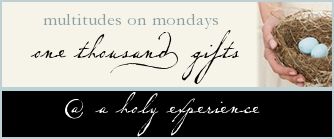 Labels: Christian Inspiration, Creation, Faith, Gratitude Community, Playdates with God, Solio Deo Gloria, Tell Me A Story