Jordan, the Youngest (L), me and Tim, the Oldest (R)


At moments I wondered how the day would turn out. The morning began quietly, leaving me a little on edge. But the sermon at church set me on the right path.

"See to it that no one misses the grace of God and that no bitter root grows up to cause trouble and defile many." Hebrews 12:15 NIV

Our Pastor was making a point about what causes us to sin and how to cure it. Bitterness was only one of three areas on which he focused. But it was the one that touched my heart deeply. I had to look within to see what was causing my anger and critical spirit. Why was I not trusting that God's plan is best? Sin is what you do when you don't believe God's plan is adequate or best, our pastor continued.



The cure for the sin sick heart is Thanksgiving, our pastor emphasized. In Ephesians 5:3,4 he pointed out that Paul told us the way to not sin is to give Thanks instead. He also cited Psalm 103:2; Jeremiah 31:14; and Psalm 107:8.

These last six months I have allowed bitterness to grab hold of my heart. I knew the Lord was speaking to me but little did I know that He would call on me today to let go of the hurt and pain and focus on the joys. When conversations were misunderstood today or when hurtful words were hurled into the air, I recalled this morning's message and asked for the Holy Spirit's help.

The day ended with many blessings to recount and God's grace to light my way.

Giving thanks to the Lord for:
862) Youngest moving back home until he leaves for Navy boot camp in July--Praise God
863) Notes from both sons on my Facebook page
864) Hubby treating me like a queen
865) Beautiful pink roses from Hubby



866) Lunch at a restaurant situated against the jagged mountain peaks
867) Fun snapping pics of the blooming saguaros in 100 degree heat


Blooming Saguaros


868) Dessert at our favorite gelato hang out--the best in our area for 7 years straight!
869) Relaxing at home, catching a few pages of a book


One of my favorite boys, too--Chip, the Wonder Dog


870) Playing a dice game with the family. It's called 5,000 and Aunt Mary taught us the game.



871) Playing a word game with Hubby and beating him by 1 point. Unheard of! He always beats me at word games. The game is called Quiddler--and it's addictive.
872) Drinking sparkling Apple-Cranberry Juice from our grocery-store-crystal glasses bought so long ago for $5 each with every $100 purchase of groceries
873) Mother's Day cards from loving friends
874) Watching the movie "Iron Lady" with our friends at the $1 theater that really costs $2.50/person and $6.50 for popcorn. It's still a deal and so much fun to do with friends!
875) Thoughtfulness from the librarian who let me have an extra day to pick up the book I had on reserve. The kindness of people touches my day with joy.
876) God's grace, gracious, and forgiveness. His gentleness and nearness. His compassion that feels and knows our pain.

For all these gifts and more, I give You thanks, O Lord.

"Let them give thanks to the Lord for his unfailing love and his wonderful deeds for men, for he satisfies the thirsty and fills the hungry with good things." Psalm 107:8,9 NIV



From My Heart to Yours,
Linking with Multitude Monday at A Holy Experience; Playdates with God; On,In and Around Mondays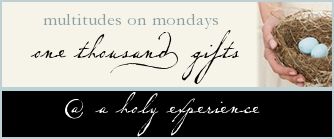 Labels: Christian Inspiration, Family, Gratitude Community, On In and Around on Mondays, Playdates with God