On a mild December afternoon, a sparkle in the yard caught my eye. It seemed to come from the orange tree. And although I knew it was too early for blossoms on the tree, I tip-toed out to the tree with curiosity.
No blossoms greeted me, but the tree had green, golf-ball sized oranges perched on scattered limbs. I was stunned. I had never seen a blossom in the spring after our frigid winter that nearly killed the fruit trees. How had the fruit grown? I wondered if these apparitions were illusions or if they would become real fruit.
After grabbing my camera, I pondered the amazing fact that these trees produced leaves let alone fruit after being stripped almost bare by last winter's frost. Brown crinkled leaves left from the brittle days mingle with shiny green ones now.
Then it became clear as the Lord's thoughts traveled across my mind. What had I done to help produce fruit on this tree except for the basic feeding and watering? Had I caressed the tender branches or gently pressed the new leaves while whispering, "Come on, you'll make it. Please produce some fruit again."? Sure, I had wandered out there frequently in the spring, looking hopefully for blossoms, and returned inside sad to think that at least a hole year would go by before I saw the promise of fruit. For the most part, though, I had let the tree go, growing as fruit trees do. And God had brought the growth!



The Lord was speaking to my heart. There's someone in my life I have to "let go" and allow God to produce the growth. It seemed so simple in the garden when He spoke to me. But in real life, it is the hardest thing I have ever had to do.
Like the winter chill that hit our trees, I feel frozen, numb, and stripped of the life I was once knew. Those casual conversations and sharing of heart-felt feelings with my youngest changed to measured words, texts, and allotted visits after he flew the nest last spring.
At that time, I had to let go of sharing a home and some of his heart with him. This fall he made it clear that he was not returning to college. He was going to pursue the military, and then maybe return to college with all the benefits of a GI bill. Another dream came toppling out of my cozy nest in the trees. It was a dream I had worked so hard with him to accomplish. Fear moved into the empty space. But before I had time to adjust my wings, a young lady captured the rest of his heart. My nest felt out of the barren tree.



If I could only trust the Lord to take me through this time of feeling frozen and barren to a time where I see growth again--growth in me and hopefully new growth in the relationship with our youngest, I could gracefully let the leaves bloom, illusions of fruit appear, and be renewed for expectant blossoms. But I keep shaking the tree, pleading with it to produce some fruit again. I squeeze the leaves, begging them to promise that next spring they'll bear blossoms.
And the fear that's come to rest in my nest has sent me twisting and writhing in anxious pains.
"Be Still and know that I am Lord," I hear. But it's easier said than done when your insides are churning.
"The Lord is in control," I agree with friends. But my view from the ground is not convincing me.
I pray all the prayers for our adult children. But in the end, I need the Lord's grace and strength to "let go."
It is a time of grieving as I try to "let go" and wonder if I'll hear from him again. Silence fills the air.

"Hear my cry, O God; listen to my prayer. From the ends of the earth I call to you. I call as my heart grows faint; lead me to the rock that is higher than I." Psalm 61: 1, 2 NIV

"Find rest, O my soul, in God alone; my hope comes from him. He alone is my rock and my salvation; he is my fortress, I will not be shaken. My salvation and my honor depend on God; he is my might rock, my refuge. Trust in him at all times, O people; pour out your hearts to him, for God is our refuge." Psalm 62: 5-8 NIV

Reaching for Joy in the pain. Ann Voskamp's answer: "The answer to anxiety is the adoration of Christ."

Thank you, Lord:

748) for a friend pulling into the parking space facing me at Costco. God's appointment. She was there at just the right time to pray with me.
749) for a Christian counselor
750) for the chance to apologize to someone for something misspoken long ago
751) for decaf coffee purchased by my supervisor because my nerves are not up to caffeine; such thoughtfulness and compassion
752) for the courage to say, "no"
753) for the Lord's peace in preparing dinner for youngest and his young lady
754) for oldest going to the market and purchasing cookies for dessert
755) for the joy of being with our home group and their prayers for us
756) for the sound of a text beep that means someone is thinking of me
757) for the sound of the school bell at the end of the day and the gratefulness that I had strength for the day
758) for my husband's joyful voice as I came home one day
759) for resting in hubby's strong and comforting arms
760) for Chip, our wonder dog, wiggling on his back with legs flailing in the air
761) for gently falling rain to rock me to sleep at night
762) for time to read

As I go through this time, I might not respond to your comments or write very often but know I appreciate your encouragements tremendously and I treasure your prayers.




From My Heart to Yours,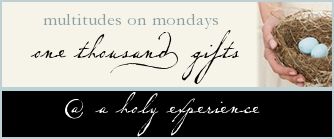 Labels: Christian Inspiration, Creation, Depression, Faith, Family, Gratitude Community, Playdates with God