The Alaska Journey continues with just a tip of the gratitude iceberg that goes deep into my soul. Just a list and photos today.

Thank you, Lord, for
621) praying friends who hold you tight through storms and rejoice with you when you dance
622) thoughtful friends who surprise you with an anniversary cake on your cruise and share in your joy
623) kind and generous friends who share their homes, their hearts, their struggles, their faith--all to encourage you along the journey
624) giving friends who allow you to share a majestic Alaskan cruise with them




625) sons who text "Happy Anniversary" wishes
626) a sweet chocolate surprise from hubby to say, "I love you," as we stepped into our cabin on the ship
627) the opportunity of adventure in discovering more of Your magnificent creations and sharing them with Christian friends



628) the gracious love of a caring husband who covers and supports me with the love of Christ
629) the laughter, fun, peace, and joy You so graciously supply as you part the storm clouds for now


Wildflowers of Denali, Alaska
"Great are the works of the Lord; they are pondered by all who delight in them.
Glorious and majestic are his deeds and his righteousness endures forever.
He has caused his wonders to be remembered; the Lord is gracious and compassionate." Psalm 111:2-4 NIV
May your week be filled with His majesty and secret surprises.
From My Heart to Yours,
Linking with the Gratitude Community at Ann Voskamp's, A Holy Experience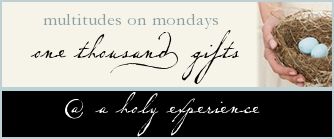 Labels: Christian Inspiration, Creation, Gratitude Community