It's the season of harvest here at our home. We have waited longingly for the time to come when we could pick the sweet, juicy oranges and the tart lemons. We have waited for this moment for 12 months. The time of the last picking of fruit.
It seems like an eternity since we inhaled the first blush of promised fruit from the trees. Fragrant white blossoms filled the air with their heady scent. Enthralled, we hope-counted how many might cling. Back then, just before spring, we nurtured the trees. Granules of nutrients were turned into the ground. Water slow-dripped from the garden hose to soak the trees' roots.
This growing business takes time. Takes effort. Takes waiting.
Eagerly we checked the progress of this fruit we had birthed. The berry-sized fruit doted the trees in May when we worked in another dose of food and slow-dripped water. Full maturity would not arrive until fall just after the third feeding.



As I contemplated the progress and anticipated the long-awaited prize, my heart was quickened by the spiritual comparison of harvesting.
It's a process.
It takes time--from when the first seed is planted.
It takes nurturing--with bread from the Word and Water from the Spirit.
It takes anticipation--encouragement and hope, a promise of eternal reward
And when the fruit is fully ripe, it is lovingly plucked from the tree, juice squeezed out to nurture the thirsting souls.The fruit once nurtured is now altered to nourish others.



"Let us not become weary in doing good, for at the proper time we will reap a harvest if we do not give up." Galatians 6:9 NIV

What are you planting, nurturing or harvesting into eternal reward?

Giving thanks to the Lord of the Harvest for the Multitude of Blessings:


391) fruit on the trees to harvest
392) the whole family, joy-filled as we watch the oranges grow
393) willing hands to help nurture the trees



394) the sweet taste of fresh squeezed orange juice from our own trees
395) the blessing of another year~of hope and healing; of goals and purpose; of fresh starts, each
day
396) a special friend to share a coffee
397) crazy fun with friends over the holidays
398) special moments with family, long remembered
399) Cousin Patcee's yam dish
400) Melt in your mouth roast at Cousin Lida's
401) the feel, the touch, the sight, the sound of snow
402) your protection Lord in all circumstances
403) sunrise sky in California
404) rest and sleep to heal my body


405) antibiotics that chase the bad germs away
406) a loving husband who called every day while he was gone~calling in the middle of a party,
pulling me into his fun
407) the feel of clean sheets
408) order returning to our home as Christmas gradually gets packed away
409) laundry getting done
410) a way to exercise and get healthy
411) Christian fellowship
412) Your presence over the families whose lives were changed forever by the tragedy in Tucson
413) Your healing and comfort for the community
414) Your Word proclaimed on national television as major networks covered the memorial service
415) the sudden awareness by many of a need to pray to You
416) and the light that flickers from Cousin Patcee's stove candle, lifting prayers to you for
all the family's needs~mine included.



Praise You, Lord





From My Heart to Yours,
Linking with a Photo Prompt from 3 From Here and There :
the Gratitude Community at Multitude Monday at Ann Voskamp's
and On, In, and Around Mondays at L.L.'s place
(Monday slipped into Tuesday :)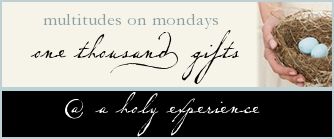 Labels: 3 From Here and There, Christian Inspiration, Creation, Family, Gratitude Community, On In and Around on Mondays